Principals of the Democrat Party
Democrats…
---
Erected walls around your Capital but gas light you that walls don't work to protect you.
Judge people by the color of their skin, not by the content of their character.
Think racial discrimination is fine as long as the 'right' groups are hurt.
See 'fairness' as an attribute of outcomes, not of process.
Leave fellow Americans behind enemy lines.
Prioritize non-Americans over Americans.
Welcome imports from China that are being produced with Uyghur slave labor.
Want to defund your police.
Put criminals back on the street with no bail, no charges.
Routinely criticize law enforcement and at the same time make excuses for Antifa & BLM violence.
Allow Marxist/Anarchist BLM and Antifa thugs and agitators to run amok in your cities and towns, but
Want you and your family/loved ones defenseless by gutting your 2nd Amendment.
Find riots and looting justifiable if committed in the name of 'racial justice'.
Call speech that they don't like 'violence', but call the violence that they support 'speech'.
Call it democracy when the majority of Americans articulate positions leftists support, but when the majority of Americans articulate positions that leftists do not support, democrats call that extremism.
Define an 'extremist' as anyone who opposes the current prevailing ruling class and system for distributing power.
Call the Waukesha murderous rampage 'just an accident caused by a SUV'.
Turn the Constitution's Impeachment clause into a political weapon.
Turn the IRS into a political weapon to be used against you (remember Lois Lerner…).
Turn the FBI into the U.S. version of 'State Police' (Stasi) enforcement units by repurposing them to target and intimidate American parents for exercising their 1st Amendment right to seek redress of their grievences.
Turn the Department of Justice, not only into a weapon to be used against their political adversaries, but also into theThe Department of 'Injustice' .
Utilize government agencies to spy on their opposition.
Administer ideological purity tests to the nation's military.
Change the purpose and priority of the US military – which was to fight and win wars and to be the most lethal fighting force in the history of the world – to being a petri dish for diversity and inclusion.
Assume anyone who spends $600 or more is a tax cheat and dishonest.
Put the demands of the teachers unions – big doners to Democrats – above the needs of your children.
Always block any effort and/or initiative to allow you to freely choose your child's school.
"Don't think parents should be telling schools what they should teach". Terry McAuliffe.
Open the borders allowing untested, unvaccinated masses into our nation, but want to mask and force vaccinate your children.
Protect Wall Street but not your street. Why does income disparaty keeps getting worse, really?
Tell us that the debt doesn't matter, and that the government can spend as much as it wants.
Kill good union and blue collar jobs by pursuing a policy or energy dependence instead of energy independence or energy dominance.
Seek a larger government, not a larger economy.
Are no longer the party of the Working Class, but are now the party of the Rich and the Ruling Class.
Want to pack the Supreme Court – Biden Creating Commission to Study Expanding the Supreme Court – solely to get what

they

want.
Issue the most Executive Orders in the first 45 days than any administration in American history.
Proclaim that no Amendment to our Constitution is 'absolute'. So, what is? Only their agenda?
Want to nuke the senate Filibuster to ram through the most radical, progressive agenda matched only by China's Cultural Revolution (1966-1976).
Create the biggest immigration crisis since their previous administration in 2015.
Are dominated by representatives from wealthy, often coastal districts and essentially ignore working-class, blue-collar and fly-over-country constituents.
Work from three dogmatic assertions: Gender and race define every individual; discrimination against oppressed races and genders defines America; and all social inequality, such as pay differentials, is the result of systemic discrimination.
"Alinsky" (Isolate, Ridicule, Marginalize) you and anyone else who dares criticize the regime.
Destroy the free exercise of your religion.
Destroy women's sports by allowing biological males to compete against biological women.
Are completely deaf to a baby's heartbeat in the womb and blind to its image on an ultrasound.
Take your money to fund abortions worldwide.
See abortion as a sacrament of their secular religion (or a sacrifice to it).
Want to kill unborn baby girls and boys by dismemberment, decapitation, forced expulsion from the womb, deadly poisons, or other methods at any time until birth.

Take and redistribute your income, essentially to try and buy new constituencies.

Call you a Conspiracy Theorist when they, themselves, conspire.

The Secret History of the Shadow Campaign That Saved the 2020 Election.

Always accuse you of doing what they, in fact, themselves, are doing.
Allow and allowed their hatred for President Trump to nullify their obligation to represent their constituants.
Appoint themselves our cultural nobility to dictate just about everything, from how tax dollars are spent, to the words that we're allowed to say, to how our children are to be educated.
Persist on pushing a divisive political platform steeped in the Marxist ideology of class struggle, now under the guise of 'Critical Race Theory'.
Reject the value of the individual in favor of 'The Cause'.
Champion a 'grievance ideology', priming people to identify as perpetual victims, making them see grievance in every interaction, turning pain and ignorance into hatred and turning ones partners into oppressors.
Try to intimidate convince the public that Patriotism is synonymous with racism and fascism.
Use crises solely to further their own agenda ("You never let a serious crisis go to waste. And, what I mean by that it's an opportunity to do things you think you could not do before.' Rahm Emanual).
Are essentially a 'Wrecking Organization' who pursue an 'America Last' – 'America Worst', not an 'America First' agenda, and
Give their last full measure of devotion so that a government of the bureaucrats, by the technocrats, for the plutocrats shall not perish from the earth.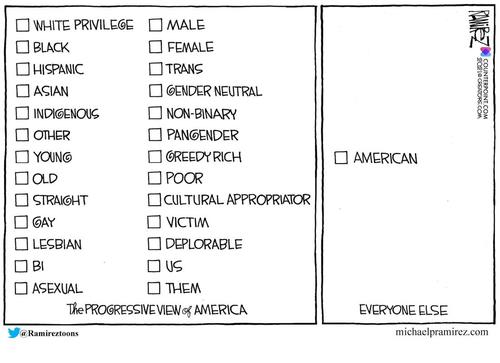 The Democrats say 'Let's just Unite ', but…
---
It's OK to call for 'Re-Education Camps', 'Firing Squads' and to ban Talk Radio to 'Deprogram' 75 Million Trump supporters.
It's OK that 45% of Democrats support forced quarantine camps for the unvaccinated.
It's OK for a Columbia University Professor to call for a Constitutional Amendment 'To Prevent Another Trump'.
It's OK to target white women for their election 'Wrong Think'.
It's OK to impliment a coordinated attack to 'cancel' conservative voices from social media.
It's OK for a Daily Beast editor to call for 'Humiliation' and 'Incarceration' of Trump Supporters.
It's OK for Harvard students to demand that ex Trump officials be barred from campus.
It's OK for Michael Moore to announce to MAGA Fans, "A Lot of You Are Going to Die".
It's OK for a Michigan state representative to threaten Trump Supporters.
It's OK to 'dox' lawyers representing President Trump in election battles.
It's OK to strip Republicans of their committee assignments for believing in hoaxes when, in fact, they themselves pushed a hoax for 4 years.
It's OK for Congressional Democrats to target cable providers for carrying conservative leaning news outlets accusing them of spreading "disinformation and extremism", but what the heck do CNN, MSNBC, NBC, ABC, CBS and PBS do?
It's OK to present legislation to let politicians targeted by recall efforts dox see who signed petitions to oust them.
It's OK for a CNN analyst to call for sweeping regulation of Conservative's Free Speech on the Web.
It's OK for the Associated Press to cheer ruthless authoritarianism.
It's OK to pile body bags in front of GOP Senator's doorways in disgusting threat.
It's OK to bomb a Michigan Trump supporter's home.
It's OK for a Portland restaurant to be set ablaze after its owner criticizes Antifa.
It's OK for a top Biden staffer to call Republicans a "Bunch of F*ckers".
It's OK to attack President Trump's defense attorney's home and threaten his family, his business, and his law firm.
Pay attention to how they speak of Rush Limbaugh because that's how they feel about you.
It's OK for Pelosi to hire a racist to hunt MAGA.It's clear that Democrats want 'Unity'

only

on their terms. Or, are they demanding 'Uniformity'?
Racism, Inequality… What Political Party do you think of?
---