Upcoming Events
All Committee Events are Temporarily Canceled
Important Changes to the PC Nomination Process



No nomination signatures are required. All that is required to nominate yourself to be a Precinct Committeeman is to complete the Nomination Form. The submission dates have also changed–complete, date and submit the form no earlier than April 7th and no later than May 25th. You can send the completed form via email to ccelections@coconono.az.gov or via USPS to:
Coconino County Elections
110 East Cherry Avenue
Flagstaff, AZ 86001
Please keep Chairman Joan Harris informed when you have sent in your nomination form. This is a great opportunity for anyone interested in becoming a PC to do so with minimal effort.
---
Party of Freedom
Though popularized in a Thomas Nast cartoon, the GOP's elephant symbol originated during the 1860 campaign, as a symbol of Republican strength. Republicans envisioned "free soil, free speech, free labor." Under the leadership of President Abraham Lincoln, the GOP became the Party of the Union as well.
President Lincoln issued the Emancipation Proclamation, but it was the entire Republican Party who freed the slaves. The 1864 Republican National Convention called for the abolition of slavery, and Congressional Republicans passed the 13th Amendment unanimously, with only a few Democrat votes.
The early women's rights movement was solidly Republican, as it was a continuation of abolitionism. They were careful not to be overly partisan, but as did Susan B. Anthony, most suffragists favored the GOP. The 19th Amendment was written by a Republican senator and garnered greater support from Republicans than from Democrats.
Founding of the Republican Party
On July 6, 1854, just after the anniversary of the nation, an anti-slavery state convention was held in Jackson, Michigan. The hot day forced the large crowd outside to a nearby oak grove. At this "Under the Oaks Convention" the first statewide candidates were selected for what would become the Republican Party.
United by desire to abolish slavery, it was in Jackson that the Platform of the Under the Oaks Convention read: "…we will cooperate and be known as REPUBLICANS…" Prior to July, smaller groups had gathered in intimate settings like the schoolhouse in Ripon, Wisconsin. However, the meeting in Jackson would be the first ever mass gathering of the Republican Party.
The name "Republican" was chosen, alluding to Thomas Jefferson's Democratic-Republican Party and conveying a commitment to the inalienable rights of life, liberty, and the pursuit of happiness.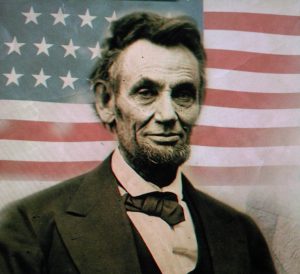 Abraham Lincoln
Abraham Lincoln was the first Republican President of the United States who pushed for the passage of the 13th Amendment which freed the slaves in 1865.
"America will never be destroyed from the outside. If we falter and lose our freedoms, it will be because we destroyed ourselves" …Abe Lincoln.
Racism, Inequality–What Political Party do you think of?
---