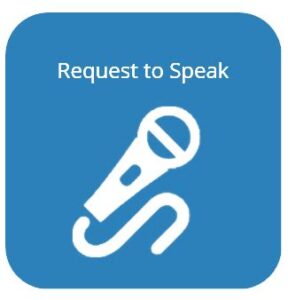 The Arizona State Legislature's Request to Speak system (RTS) is designed to allow the public to register an opinion on bills listed on agendas and to request to speak on a bill in a committee. You must be a registered RTS user to use RTS. When you are registered, you sign in, register your opinion and leave a comment for the committee members on any piece of legislation that is in play in the Arizona House or Senate. You do not have to speak to give your opinion to the committee.
So, how can you get registered? You can:
Go to the Capital Building in Phoenix and create an account by signing in on one of the kiosks in either the House or Senate (there is also a kiosk available in the Tucson office), or
Click on this link to Civic Engagement Beyond Voting and fill out their Sign Up for Request to Speak form and their volunteers will activate an account for you and send you an email with instructions on how to get started ¹.
There are other organizations like CEBV that can also register you on the RTS system ². These are:
EZAZ.ORG is a non-partisan pending C4 organization, focused on education to make civic participation easy and accessible for all Arizonans. Their mission is to ensure every voice that wants to be heard by their local leaders is educated, equipped, and empowered to be successful in driving their personal policy goals.
The Center for Arizona Policy (CAP) is a nonprofit advocacy group whose mission is to promote and defend the foundational values of life, marriage and family, and religious freedom. They also track legislation relevant to their mission.
The Arizona School Board Association (ASBA), is a private, non-profit, non-partisan organization that cultivates excellence in locally governed school districts to bring about the best schools in every Arizona community. They, too, follow legislation relevant to their mission.
¹ By filling out their form, you allow Civic Engagement Beyond Voting to create an account for you at the Arizona Legislature to use the Request to Speak (RTS) system. This will allow you to make your voice heard by supporting or opposing legislation while it's being heard in committees. They will add your name to their newsletter to receive tips and recommendations for RTS positions and information about legislative activities.
² Keep in mind that by using these organizations to sign you up for the RTS, you might be placed on their mailing and contact lists and your information given or sold to other related organizations.
Once you're registered, how do you use the RTS?
For a demonstration on how to use the RTS, watch the following video:
Where can you get additional RTS training? The AZ Free Enterprise Club (AZFree) is conducting online training on the 1st Wednesday of each month February through June 2023 from 6:30 pm – 7:30 pm on how you can quickly and easily give your opinion to your elected officials at the Capitol on important high impact bills using the Legislatures' Request To Speak system. To participate in AZ Free's training, you can Register Here.